AUTHENTIC ADVENTURES
OUR MISSION STATEMENT
Our Company is an alternative accommodations and recreational services firm dedicated to providing outdoor enthusiasts with a diverse outlet to follow their dreams and experience nature as it is meant to be. To achieve this goal we network our assets with a chain of sporting lodges, luxury coach retreats, and outfitting services throughout the region. We commit to providing only quality outdoor experiences and generating satisfied customers by:
Custom tailoring wilderness adventures
Maintaining high ethical standards of service
Networking with partners that share our goal
Protecting & enhancing the natural resources in the ecosystem
AN INTRODUCTION TO GLAMPING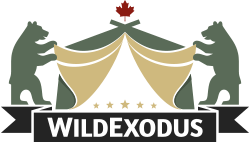 HOLIDAY ADVENTURE TRAVEL
Get to know your premier hospitality and outdoor adventure tour providers in the Northeastern Ontario travel area, offering guests unparalleled opportunities to experience nature in the world's largest ecosystems; the Boreal forest.
Housekeeping roofed facilities, camping options and holiday packages. Glamping vacations, canoe expeditions, fishing trips, photo safaris, and family events are just some of the adventure experiences delivered by WildExodus Travel.