2023 FAMILIARIZATION TOUR
ON JUNE 26 to July 2 COME GET WILD WITH US
This tour is provided in support of our partners, Tourism Timmins, Northeastern Ontario Tourism, Destination Northern Ontario, and Destination Canada.
On the guests' list will be professional attendees to next year's Canada's Premier Tourism Marketplaces. To request attendance, simply get in touch, email us .

WILDERNESS MEDIA TOURS
EXPERIENCE OUR TRUE NATURE
This is responsible travel to natural areas which conserves the environment and improves the welfare of local people. It will enlighten participants with the heritage and socioeconomic fabric of this Canadian Province. A true pioneering, luxurious wilderness adventure.
Glamping with WildExodus is a genuine, nature-based, cultural and learning experience. The adventure will provide potent memories, as a premier quality tourism product that is uniquely identifiable and offers a high level of service.
While floating on historic canoe routes used by Hudson Bay Company traders, guests will also learn how the beaver and a company gave birth to our nation. In this tour, guests will be pampered and afforded the opportunity to truly interact with nature.
To discuss media tour ideas or to request attendance, simply get in touch by phone, email, or with the short form. In addition, please help yourself to our latest media toolkit.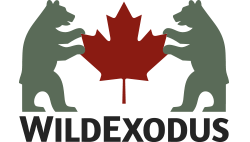 Local | (705) 365-7538
Overseas | 01 1-705-266-1555
Consistency is key when promoting WildExodus Travel. We ask that you please use the following branding elements when developing any content that relates to our tourism products. Each download is a compressed zip format that includes more than one file. Enjoy!
Below are some of the latest featured articles and links that discuss some of WildExodus Adventure Travel's adventures and exotic experiences.
Whether you wish to send us some specific information about a media tour idea, or just want to confirm your attendance at one of our scheduled familiarization tours, please use the form below. We will be sure to get back to you in a timely manner.